Make Labeling More Efficient with Automation
Partner with industry-trusted laboratory labeling solutions providers that understand how to run an efficient and cost-effective business.
Automated labeling provides valuable walk-away time

Labeling consistency

Reduces human error

Reduces repetitive injuries from hand labeling tubes

Small benchtop automation saves space in the lab

Improves accuracy

Increases productivity and efficiency in the lab

Increases cost savings
Scinomix – Automated Tube and Plate Labeling Systems
Automated labelers make the labeling process fully automated, reducing the time and effort required to identify tubes and plates.

Full and semi-automated systems that can label tubes ranging from
0.5 mL to 50 mL in size, microplates, as well as Matrix and Micronic 2D vials.

These systems can be configured to sort racked tubes, receive bulk tubes, uncap or recap tubes, fill tubes, and scan barcodes.
LabTAG – Cryogenic Labels for Automation
LabTAG's automation labels are designed for use with all Scinomix thermal-transfer automated print-and-apply barcode systems for tubes and cryo vials.

Cryogenic automation labels are waterproof and withstand long-term storage in liquid nitrogen (-196°C/-320.8°F).

Labels can be customized to withstand the most rigorous laboratory environments, including autoclave sterilization and exposure to harsh solvents.
Get a tailored solution for your needs and book a meeting with one of our experts now!
Scinomix Automation Solutions
Fully-automated Tube Handling
The Sci-Print VX2 and Sci-Print VXL share similar functionality, with the only difference being the amount of tubes each can hold. The Sci-Print VX2 has a work deck of 6 racks and can hold up to 600 tubes, while the Sci‐Print VXL has a 12‐position work deck of 12 racks and can hold up to 1,200 tubes. 
Features:
Throughput of 425 tubes/hour

Sci-Print VX2: 6-position work deck (accommodates up to 600 tubes)

Sci-Print VXL: 12-position work deck (accommodates up to 1200 tubes)

Thermal-transfer printer

Ability to handle honeycomb plates

Labels tubes and vials ranging from 0.5 mL to 50 mL

Uncapping and recapping of screw top lids (if filling option is required)
Semi-Automated Labeling Device
The Sci-Print SOLO is used for manual labeling of tubes ranging from 0.5 mL to 50 mL. It is commonly integrated into larger automated systems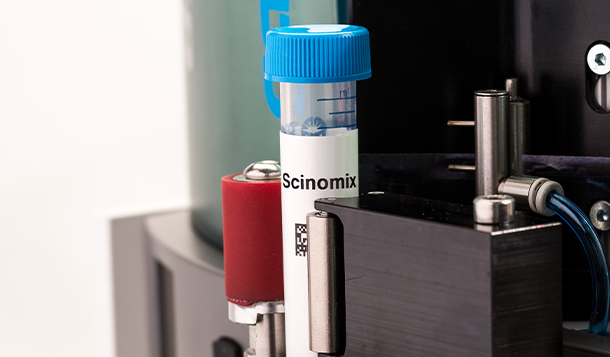 Features:
Thermal-transfer printer (300 or 600 dpi)

Vial sizes from 0.5 mL up to 50 mL (8 mm to 29 mm in diameter)

Windows-based software

CE-certified
Scinomix offers add-on components that can be used with the VX Series to offer robust solutions tailored to your labs specific needs.
The Scinomix VXQ is a bulk tube handler that eliminates hand loading of tubes into racks, effectively saving you time in the lab. Its flexible design allows the user to easily change tube types with the touch of a button.
Handles 200 to 300 bulk tubes per hour.

Handles multiple tube types with the same system

Works with a variety of vials ranging from 0.5 mL to 15 mL

Touch-screen control

Easily create, store, and change multiple tube definitions

Retrofits to existing machines in the field
Add-On: Automated Capping and Decapping Device
The Scinomix RapidCap is an automated capping and decapping device that eliminates the time consuming and tedious task of capping and decapping tubes in the lab, providing significant time savings.
Features:
Caps and de‐caps 0.5 mL or 2 mL Cryovials

Capping rate: approximately 6.5 seconds per tube

De‐capping rate: approximately 4.0 seconds per tube

Easy set‐up, 

self‐contained,

 plug-and-play system, (no external computer required)

All electric (no air required)
Get a tailored solution for your needs and book a meeting with one of our experts now!
Reviews from customers who used our Labeling Automation System
"The Scinomix VXL/VXQ automated labeler/filler has been a game‐changer for our lab. What took a team of 8 analysts tediously hand‐labeling thousands of vials for 8 hours has been replaced with a robust machine that has eliminated repetitive stress injuries. The after‐purchase support from Scinomix has been outstanding, being able to resolve problems within hours or a few days."
Stephan Goldner
from GSK
"The Scinomix VX2 is a versatile and easy to use tube labeler. It can handle almost any tube type with the use of swappable heads (now with a universal head which makes it even easier). They can make tube racks for almost any tube type. They offer a variety of various labels depending on your needs, and the software is easy to use. The system itself is reliable as long as it is maintained properly."
Wali Malik
from GSK
"Eases the burden of storing bulk preparations. Gone are the days of time‐consuming hand‐ written tube labels that inevitably become illegible. Easy to use. Consistent performance. Captures all relevant reagent information on an easy to read label affixed automatically while you are preparing the reagent. A real time saver."
Jim Dalton
from Alexion
"We downsized the number of people working in our area, but the workload was the same, with the Scinomix we were able to label, fill and sort tubes faster than before, more accurately and with fewer people. We have come to depend on the instrument so much we have purchased another as if it goes down, it would be hard to keep up with the production levels that we currently have."
Diane Holder
from USDA APHIS
"The VX2 does a wonderful and consistent job of placing labels on the tubes. There is very little upkeep with the maintenance. The results of the labels printed are high quality with reproducible results. I rated this the highest for instrument automation do to the fact of how solid the instrument is without any down time. The service/sales team are very knowledgeable and very kind individuals there, always a pleasure to speak with them over the phone if I ever contact them."
David Freedom
from Gift of Hope
Get in Touch
Tell us a little bit about yourself and one of our experts will be in touch with you shortly.